BUILDING UPON THE BRANDS LEGACY AND LEVERAGING THE HOUSES HERITAGE G GIVENCHY EMBRACES THE CORE VALUES ONCE AGAIN FOR FALL WINTER 2016 WITH A RELENTLESS DESIRE FOR NEW EXPERIENCES, AND NEED FOR COMPLEXITY OUR ONGOING SEARCH FOR NEW CONTEMPORARY LUXURIES ARE DRIVEN BY MODERN MINIMALISM, FRAGILE BEAUTY, PRECISION AND IMAGINATION. EXPLORING THE ANATOMY OF ICONIC SILHOUETTES THROUGH TECHNICAL CRAFTMANSHIP AND MODERNIST TRADITION ATTENTION HAS BEEN GIVEN TO THE INSIDE AND OUT IN DETAIL.
SEARCHING FOR NEW FORMS THAT DISRUPT THE NORM BUT EXPRESS THE FAMILIAR, EXPLORING HOW TRADITIONAL DESIGN AND FABRICATION WHEN MIXED WITH MODERN TECHNOLOGIES AND STYLE TRANSFORM CONTEMPORARY DESIGN AND BREAK FROM THE PAST DEFINING A COMMUNITY THAT IS DISTINCT FROM THAT WHICH HAS COME BEFORE. A MARRIGE BETWEEN THE PAST, PRESENT AND FUTURE IS AT THE CORE OF G GIVENCHYS PHILOSOPHY AND THE REASONING FOR THE COLLECTION BEING NAMED 'DISRUPTIVE SYMPHONY' FOR THIS FALL AND WINTER.
ADDED SEASONAL BENEFITS INCLUDE THE EXPLORATION OF THERMOREGULATION THROUGH PRODUCT TRANSFORMABLITY, LAYERING, LUXURIOUS QUILTING, RESISTANT WOOLS, BONDING AND SPORT MEBRANES.
PRODUCTS HAVE BEEN ENRICHED WITH EXCLUSIVE HANDMADE TAILORING TECHNIQUES SUCH AS EMBROIDERED CORD SEAMING, STRING THREAD BUTTON HOLES, BASTING STITCHING TECHNIQUES AND POCKET EDGING, ALL MIXED WITH LUXURIOUS SOFT HANDFEEL VELVET AND SILK SATIN FABRICATIONS FOR A REFINED FINISH.
COLOUR AND GRAPHICS TAKE A TRADITIONAL PINSTRIPES AND ESSENTRIC PAISLEYS AS A FUNDAMENTAL STARTING POINT BUT ARE EXPLORED USING A LINEAR APPROACH TO THE PATTERNS, CREATING SOMETHING THAT ALIGNS WITH THE YOUTHFUL G GIVENCHY DIGITAL GRAPHICAL LANDSCAPE EXPERIENCE FROM PREVIOUS SEASONS, ENRICHED WITH SATURATED HUES OF BURGUNDY, LUX GREEN AND MIXED WITH DUSTY BLUE AND PINK.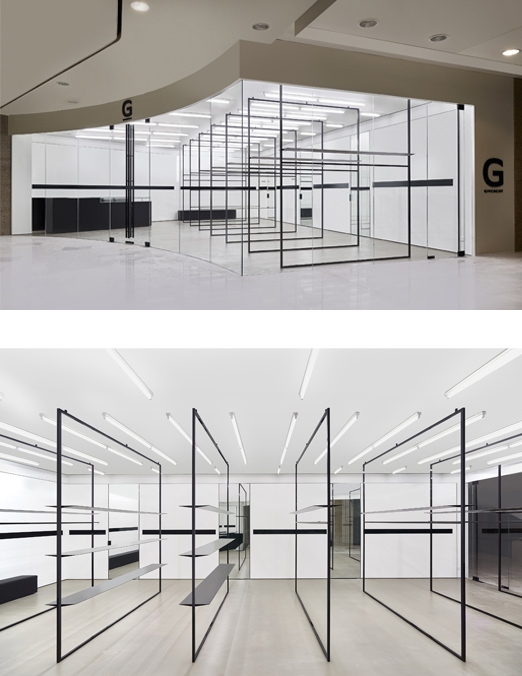 Discover the G Givenchy concept flagship store in Grand Gateway 66, Shanghai. Set in a 116 square meters space on the second floor, the new G Givenchy concept flagship store is the perfect interpretation of brand's iconic elements.
The store design reflects G Givenchy brand DNA, which juxtaposes heritage with modern, digital with physical, fine materials with concrete flooring, and luxury with streetwear codes, creating the ideal backdrop for this collection.
It takes its inspiration from Givenchy heritage, reinterpreting the iconic black box concept in a minimal and modern way.
The G Givenchy concept flagship store displays a complete offer of men's ready-to-wear, leather goods, shoes and accessories.