SHIBOROSHIKO
SHI / BORO / SHIKO
SHIBORI - A dying technique using shapes to make patterns and gradiations
BORO - A patched together handwoven textile
SASHIKO - A succession or series of reinforcement stitching placed next to each other
For Spring 2017, G Givenchy explores the anatomy of classic male silhouettes through eastern hand craftmanship techniques. SHIBOROSHIKO transforms the construction of luxury essentials through the lense of
craft, sports, science and technology.
Tradition construction techniques, natural yarns and diamond jacquards are mixed to create an interesting juxtaposition with contemporary bonding tapes and silicon overlays. Traditional loft thread needle work
embroideries, bold gradient prints and indigo bleach effects influenced by traditional eastern methods are explored using the newest digital machinery.
ECHOES OF DISRUPTION
ECHOES - A reflection of sound, arriving at the listener some time after the direct sound
DISRUPTION - To throw into disorder, alter so as to prevent expected function
The 2017 Summer capsule explores the anatomy of iconic silhouettes through sportswear colour blocking and fabrication mixing. A sport line aesthetic that considers fabric structure, disruptive paneling, lightweight
layering and obssesive refined finishing with the greatest attention to detail and comfort.
The graphics explore printed distortion and faded decay, all sunbleached and blured with natural wear.
The collection continues with a clean contemporary aesthetic in the true spirit of sport, delicate seam sealing and silicon print tapes create sleak looks, with innovative lasered ventilation and fabric zoning.
Working within the boundaries of how product is worn everyday this product offering aligns itself against consumer reality and style choice.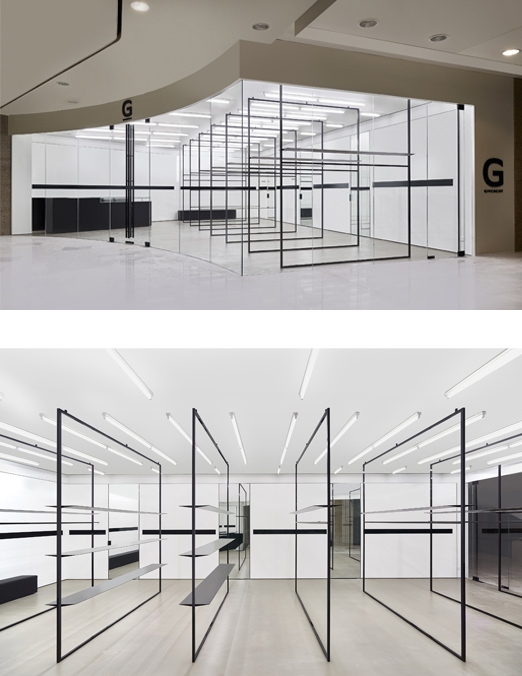 Discover the G Givenchy concept flagship store in Grand Gateway 66, Shanghai. Set in a 116 square meters space on the second floor, the new G Givenchy concept flagship store is the perfect interpretation of brand's iconic elements.
The store design reflects G Givenchy brand DNA, which juxtaposes heritage with modern, digital with physical, fine materials with concrete flooring, and luxury with streetwear codes, creating the ideal backdrop for this collection.
It takes its inspiration from Givenchy heritage, reinterpreting the iconic black box concept in a minimal and modern way.
The G Givenchy concept flagship store displays a complete offer of men's ready-to-wear, leather goods, shoes and accessories.