Looking back to a time when early explorers and zoologists had nothing but a note book and pen to document sightings of all the new unfamiliar breeds of animals while traveling through the African jungles.
These hand draw discoveries created a treasure trove of exotic animals depicted in weird abnormality, largely due to the very brief encounters had, and relying on the use of nothing but their memory as a reference to illustrate them for the rest of the world to see.
ENTWINED WILDERNESS is inspired by nature and our desire to connect with it in an increasingly tech-centric world, the urge to experience nature in a wilder, purer way becomes more visceral.
Blending the technology of outdoor clothing with streetwear aesthetic and luxury tailoring techniques creates a versatile wardrobe. This new crafted lightweight utility allows for layering with a rugged mix and match sensibility.
Continuing with the exploration of classic male silhouettes. ENTWINED WILDERNESS transforms the construction of luxury essentials through the lens of craft, sports, science and technology.
Using fictional water resistant breathable bonded sports membranes, mix and match with natural fibers, suede, lightweight nylons, knits, diamond laser cut detailing and sport stripe tapes the collection takes the outdoor utility aesthetic through the lens of contemporary luxury with a twist.
Both graphics and color are also very much influenced by the wilderness, blurred with a range of prints from botanicals to digitally distorted animals.
ENTWINED WILDERNESS is a sophisticated consideration for the body in motion during colder months.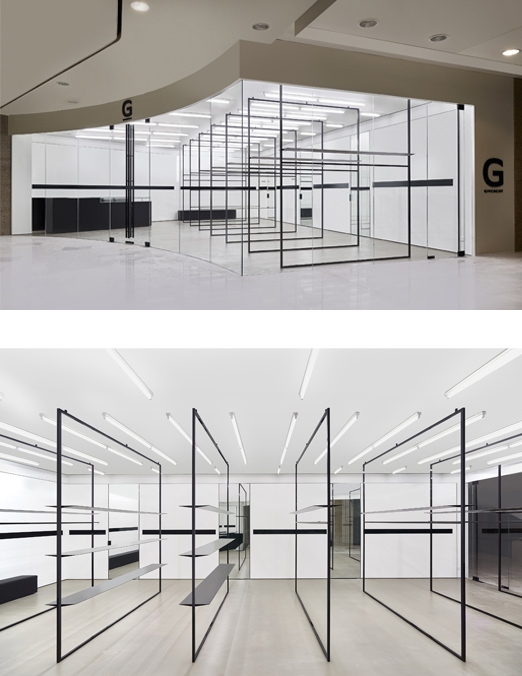 Discover the G Givenchy concept flagship store in Grand Gateway 66, Shanghai. Set in a 116 square meters space on the second floor, the new G Givenchy concept flagship store is the perfect interpretation of brand's iconic elements.
The store design reflects G Givenchy brand DNA, which juxtaposes heritage with modern, digital with physical, fine materials with concrete flooring, and luxury with streetwear codes, creating the ideal backdrop for this collection.
It takes its inspiration from Givenchy heritage, reinterpreting the iconic black box concept in a minimal and modern way.
The G Givenchy concept flagship store displays a complete offer of men's ready-to-wear, leather goods, shoes and accessories.